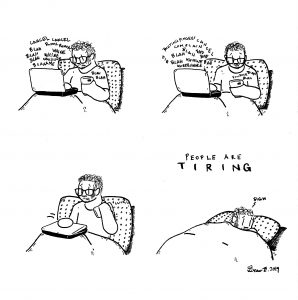 I am well aware that I have a very small audience.
A handful of people reading this blog, a slightly bigger handful following me on Instagram – not a whole lotta eyeballs looking at my work.
So, one of the things that I do find myself fantasizing about is gaining that audience, having people follow me and seeing what I do.  And maybe, if I got big enough, I could even try and make this a career.  I mean, that was the dream when I was younger, right?   Professional cartoonist.
However – and this is a very BIG however – there are moments where I pause and say, "Do I want that?  I mean – really?"
Because people, in my honest opinion, are terrifying.
They whine if you don't do this.  They can rip you apart if they so feel like it.  They complain, spread rumors, drag your name through the mud, try to get you "cancelled" – again, all terrifying.
There is this YouTuber that I enjoy, Kurtis Conner.  Nice enough guy, I like his commentary.  He had a friend who said something stupid, and suddenly he got dragged into it simply by association, being the bigger name.  Another artist who just released a generally well recieved cartoon pilot is facing people digging up dirt from when she was a teenager – stuff that she had already apologized for and was, overall, generally irrelevant.
And don't get me started on the Pokemon community as of late.  That's more than enough to make me want to hide under my covers forever.
So right now, I'm feeling stuck in this odd place – wanting to get my name out there, and scared of what would happen if I do.  Fun stuff, all around.
I'm going to keep chugging along and drawing, of course.  But, man.  People.  Exhausting.