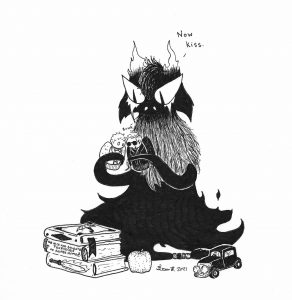 With the announcement of Good Omens Season 2, my Instagram explore page has gone from being split relatively evenly between everything to GOOD OMENS GOOD OMENS THE CLOWNERY IS OVER.
So why not add to that?  Because it is indeed pretty exciting news.  I didn't think it would actually happen, considering the first season pretty much covered the entire book.  However, a quick jaunt over to Neil Gaiman's blog revealed that he and Terry Pratchett had actually planned out a sequel, so there is stuff to pull from.  Which makes me even more excited, and a little sad that there wasn't a GO book sequel, especially with the passing of Terry Pratchett.  But hey!  I'll take a televised sequel.
Also, it just feels right to have Dot be a GO fangirl, considering the one time I heard Neil Gaiman speak in person at the DC Book Festival and the crowd was pretty much decked out in black.  It was a pretty gloomy day, too.  All appropriate for Dot here.
Also also – I don't know why I drew a car.  Crowley's Bentley is pretty important to the story, but still, I didn't have to draw it.