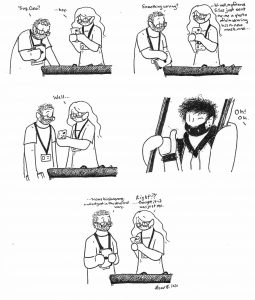 Based off of a picture my friend Chelsea sent me.
It's weird, seeing people wearing their masks with their noses exposed.
One, it defeats the whole purpose of wearing the mask.
Two, it looks…well, it looks wrong.
Thankfully, Silas learned his lesson after Cleo talked to him and told him how much of an idiot he looked like.
Also, can't remember the last time I did a comic set at the library.  Huh.