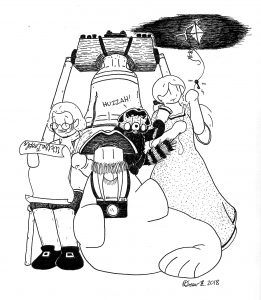 Well.
Somebody went to Philadelphia this past week.  And that somebody had a grand old time.
The last time I was in Philly, I believe I was 18.  Didn't really get to do a whole lot of tourist stuff – was mostly there to see my brother march in the Thanksgiving Day parade in the freezing cold.  I did get to see the Love statue, though, and chow down on an authentic Philly Cheesesteak.
This time, however, I was there to be a straight up tourist.  And I touristed the heck out of my trip there.
We – my dad and I – mostly stayed in the Independence Mall area of Philadelphia, basically the equivalent of the Mall in DC.  I finally got to see the Liberty Bell in all of its cracked glory, toured Independence Hall, and got to see where Benjamin Franklin got buried (sidenote: apparently, it's a tradition to throw pennies on his grave for good luck, and who am I to quibble with that?).
Of course, me being me, we had to see the Art Museum, which was the first thing we did.  Literally, we had been in Philadelphia for all of 20 minutes and we were pulling up into the parking lot.  I love a good art museum, and this was pretty good.  Lots of impressionists – my personal favorite art movement – along with quite a few of my personal favorites (Paul Klee, for one).  Had quite a few rooms set up from whatever time period they were from – the furniture, the decor, those were pretty awesome.  The modern art wing was…well, modern.  Went from 0 to weird very, very quickly, capped off with a urinal.  Thank you, Marcel Duchamp.
My personal favorite parts of the trip definitely had to be the Museum of the American Revolution and Franklin Court.  I learned a ton from the MoAR – stuff that I never learned about the Revolutionary War (the Battle of Cowpens, for example), plus stuff that I'm pretty sure I forgot (the Battle of Trenton, the fact that Philadelphia had been captured by the British for a time).  Got to see George Washington's war tent, in all its glory, which had a pretty epic reveal.  And it had the best gift shop of them all, plus a nice little cafe where apparently, Alexander Hamilton translates to a chicken salad sandwich.
Franklin Court was a surprise.  It is the former site of Benjamin Franklin's house, complete with a museum and working print shop.  The museum was fantastic.  They had this little cartoon collages, illustrating writings from Franklin himself, which were hilarious, particularly his conversation with Madame Gout.  They talked about his science experiments, his writing, his life as a politician and diplomat, which happened much later than I thought it did (after he retired from printing at age 42), complete with a little squirrel mascot modeled after his pet squirrel.  Snagged a couple of postcards as well as a real printing from the shop.
Overall, Philly was a great and much needed trip.  It was something of a throwback to the trips we used to take when my brother and I were kids.  Spend a few days in a city, seeing 2 or 3 museums a day, and heading back home.  The only downside is that I know have a pretty severe case of wanderlust.  I just want to go places now.  But that's going to have to wait because money, mostly.  But yeah.  Really enjoyed Philly.
Oh – and we did get to see the Rocky statue.  At a distance, though – there was a line in front of it, because people need to make the Rocky pose in front of it.
ALSO – the title of this post comes from the Benjamin Franklin museum.  The phrase was thrown around quite a bit, in particular after taking part in the matching games in the exhibit.  Had a moment of "Where the heck is that coming from – ohhhh…"  After that, it sort of became the phrase of the trip.
Huzzah!