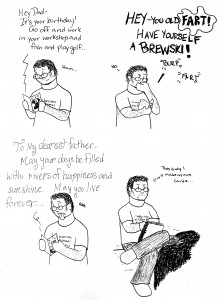 Celebrated my Dad's birthday a couple of days ago – happy belated birthday, by the by, Dad.  And I wanted to get him a nice card.  So I trundle off to Hallmark, and bizarrely enough, I found myself having the hardest time trying to find something…I don't know, my dad-appropriate?  All I could find though, were either way too hyper masculine, really really sappy/mushy, or kind of gross.  I would've been fine with a decent Snoopy card, but I couldn't even find one of those!
So, I did what I usually do in these types of situations: make my own.  Been working for me for years, so why stop now?  And yes, they of course had walruses on them.  Because if they didn't, then it wouldn't be a Drew card.
Maybe I could be the next Sandra Boynton and break into the greeting card game.  Who knows?  It's sort of been there at the back of my mind, so, hmm.  Hmm indeed.
Please follow and like us: