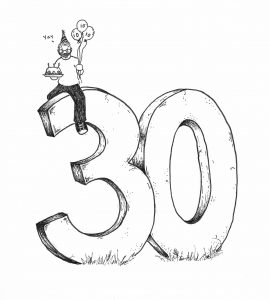 Yep.
It's finally here.
I have officially made it 30 times around the sun.
And I'm not sure quite I'm feeling right now.
I mean, it's my birthday, so I'm happy and enjoying myself right now, but like, still trying to sort 30 out.
On the one hand, nothing's changed.  I'm still me.  It's just a number.  I'll still carry on as always.  There will be new comics to draw and books to read and all that.
On the other hand…it's thirty.  Three decades.  Like, I have officially left my twenties behind and am entering something new entirely.  A brand new age: my thirties.
I find myself asking the question, "Okay – what now?  What do I do?  What am I supposed to do?"
I think a better question is "What do I WANT to do?"
And I don't have a definitive answer.
Well, okay, so I'd like to get back into writing and see where I can take that.  Try to get back into exercising.  Or maybe develop a new webcomic or something.  So I do have some ideas.
But beyond that, it's a question mark.
I suppose, though, that that's fine.  I mean, I'm always facing question marks and getting through them, right?  So, my thirties should be no different.
Still.  It's a tad surreal.
Like this comic.
So time to strap myself in and see what happens as I dive headfirst into this new era.
Should be a time.