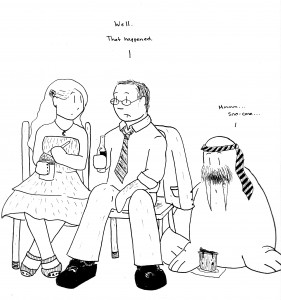 Well.
Here we are.
It's the Monday after the Wedding.  Buster and Jen are officially married.  And I'm here, sniffling because of all the allergies kicked up by standing outdoors for copious amounts of time and exhausted.
But wow.  What a weekend.
So, I know I've said numerous times over the past month that I've been super nervous for this wedding.  Thankfully, though, I managed to shove those nerves in a box and had some of the most fun I've had in a while.  And for certain people, yes, you told me so.  I know what you're thinking.
So, the wedding.
First off, the location was gorgeous.  It was the Historic Jasmine Plantation, located about a half hour from Richmond, this beautiful old manor that's about 2, maybe 3 centuries old that's been fixed up into a bed and breakfast/wedding venue.  All over the grounds, there were lights and cute little gazebos, with a special area in the back for receptions and a space out front for the actual ceremonies, with a bell next to it to ring when the couple are officially wed.
Side note: thank you, Buster and Jen, for making everything in the same place – the rehearsal, the wedding, the reception.  Made everything that much easier.
Inside the house, there was old stuff everywhere.  Antique chairs, couches, old pictures and signs lining the walls, with knick knacks and clocks galore.  The whole wedding party was able to stay here for the entire weekend – having to share beds, though.  I did have share with my brother that Friday, which is when I found out that a. I still snore apparently, and b. Buster moves a lot in his sleep.
The rehearsal was a little…fraught, shall we say.  Traffic was awful, so almost everyone, sans the caterer and myself, were late.  But once we got it underway, the rehearsal went perfectly fine.  The rehearsal dinner (lasagna and peach cobbler) was delicious.  This was my mother's present to the couple, so she went all out, decorating it with purple (one of the colors of the wedding), owls (Jen's favorite animal), and – the most popular part of the dinner – Bernie Bott's Jelly Beans, due to Jen's love of Harry Potter.  Everyone loved them, and loved trying not to throw up upon eating the Vomit flavored ones.  Side note: the Dirt ones?  Dear God.
Saturday, the day of the wedding, was torture.  Sure, helping set some things up in the morning helped a bit.  But after that, just waiting for the wedding to begin – sweet Lord.  I was hiding in the bedroom, just wanting something to happen so I didn't have to wait, feeling extra lonely/anxious.  Once we started getting dressed, though, then things started to move along.  Buster got all the groomsmen matching ties and some kickass socks – had to help me tie mine, since when it comes to ties, I'm hopeless.  After that came photos – just the groomsmen photos, though.  There'd be a helluva lot more photos later one, trust me.
Then, the ceremony.  Ah, it was beautiful.  And short.  In the grand scheme of things, it was microscopic in comparison, no more than 15 minutes, tops.  Buster and Jen's pastor friend Patrick officiated, rings were exchanged, I may have shed a tear whilst smiling like a goofball the entire time, Jen's father bawled – really, quite lovely.
Photos took forever and a day.  Mom said that every bride has something that is the most important part of the wedding, and for Jen, it was the pictures.  She got this photographer from Virginia Beach who apparently does all the weddings down there, and had photos taken with her and Buster's old fraternity, KK Psi (somewhere, a group of band geeks just yelled, "K…K…PSI!!!"), the groom's family (us, of course), her dad's family, her mom's family, Buster with the bridesmaids, herself with the groomsmen, and finally, the entire bridal party.  The whole time, we might or might not have been getting really, REALLY hungry.  Or maybe it was just me.  Nah, it was all of us.
The reception was, in my opinion, the best part.  The food was amazing (BBQ Buffet, delish), don't get me wrong.  But they had a sno-cone truck.  A sno-cone truck!  Brilliant!  I got blue raspberry, because I have to anytime it's an option.  There was dancing (and yes, I danced), meeting tons of people I don't remember, mingling with people that I already knew ('sup, Wethereds/Powells/Colorado Bigelows?  Hope y'all had fun!), cake, conversations, great speeches from the best man and maid of honor (with no crying!  What a relief…) – phew.  It was a blast and a half, let me tell ya.  Literally – we ended with sparklers.
I spent Saturday night at the hotel with my parents, just to detox a bit.  Good idea – lord knows what went on once I left.
And now, it's over.
On the one hand, it's a relief.  Trust me.  On the other hand, sort of can't believe it.  Like, whoa.  Now what?  Back to normalcy, I suppose.  Whatever that is.
And thus concludes Walruses and Weddings!  Hope you guys enjoyed coming along for the ride all August long.  I've got some things in store for the upcoming months, and I can't wait for you to see them!
Whew.  Weddings.