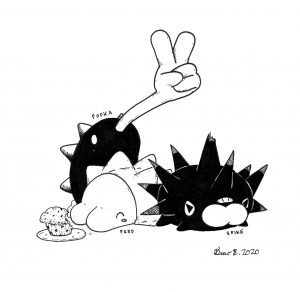 And we're back!
Sorry about the brief break.  A delightful mix of overthinking things/lack of ideas/general laziness decided to settle in with the new year.
So I decided to get back into the drawing game with Pokemon.  And these three little guys have gotten really popular in that community, and I do think they're adorable.
So here we are – Spike the Pincurchin, Fred the Snom, and Pooka the Pyukumuku.  I don't really do fanart, but this was fun.  Might do it again in the future.