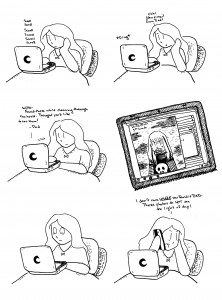 Let's be honest here.
Does anybody actually like looking back at their old school photos?  Like, seriously, you whip them out and just get nice, warm, fuzzy thoughts about the days of yore?  ESPECIALLY middle school?
Because I don't.  I've only ever done it by accident.  And whenever that has happened it's just a load of "CRINGE CRINGE CRINGE CRINGE."
It also brings about a bunch of questions about those days.  Like, why was I so hostile to my gym teachers?  Why did I think it'd be cool to curse in every other sentence?  Why did I have to get stuck with the world's worst math teacher?  And why the crap did I not want to wear my glasses, knowing perfectly well that I can't see that great without them?
Answers:  because I was out of shape, I was a fourteen year old boy, the world is unfair, and I thought I'd look like a dork.
Middle school: two years of just mrph.