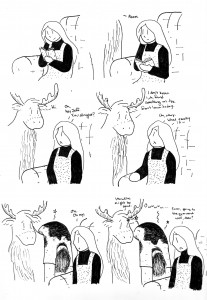 Again, took me a month to finally getting around to tackling those New Year's Resolutions.  Better late than never, I suppose.
Anyways, this past Saturday, my good friend Chelsea asked me if I would like to accompany her to the gym.  Like the hideously out-of-shape blob that I am, I waffled at the offer.  Then, with the promise of frozen yogurt afterwards, I (begrudgingly) said yes.  So I threw on my old high school sweats, found my running shoes, and went to the gym.
Now, I had not been to a gym in years.  I avoided the one that was at my school like the plague.  Not that it wasn't nice or anything – quite fancy actually, but again, I am a blob/rarely left my room in college.  And the one that I sporadically attended years ago has since been converted to a mini golf course (stranger than fiction, people).  So, pulling up to this one, I was perhaps less than enthusiastic, and maybe considering making a break for it as soon as Chelsea parked (and yes, Chelsea, I am fully aware you would've caught and tackled me there in the parking lot – never said I'd get far).  Still, there was that part of my brain screaming, "Do it.  Do it.  Come on, you don't want to reach 250 pounds, do you?  DO IT."
I have to admit, upon walking in, I had a decent feeling about this particular gym.  First off, it was clean.  I know that sounds weird, but it didn't have that grungy, sweaty kind of feel a gym could have, you know?  Very well lit, very open, lots of gleaming machines – again, clean, which is a good thing for a place of exercise.  And it was huge.  It had it's own pool, loads of space for classes, and TONS o' stuff for people to do, from weight machines to ellipticals.  There was truly something for everyone.  And there were people of all shapes and sizes there, from the fit to, well, my type of people.  Felt a little better about that.  Although seeing all those older people who were in better shape than I am at 24 was a bit jarring/depressing for me.  But hey, they've actually been taking care of themselves.  Unlike myself.
Then the actual workout happened.  And my body broke.
Kidding.  Sort of.
The stretching wasn't so bad.  After all, it's just stretching.  And neither was the cardio bit, which is what I'm used to doing.  Was I out of breath and sweating up a storm once we hopped off?  Yes, yes I was.  But I was fine with it.
Once Chelsea got me started on the workout, though…man.
It was an ab workout that she had done with her dad before – who, by the way, is 53 and has a six pack, because life is unfair.  It involved lots of bending, twisting, and lifting weights – all things that my body is not used to doing.  Yes, I do have a somewhat physical job that involves some of this, but that's nothing compared to this.  I was sweating up a storm by the time this was over.  Like, dripping off the nose sweating, which is really gross, but is what happens when I push myself/get really, really nervous.  And I really wasn't that nervous, since everyone else seemed much more focused on their own workout dealies, so I must've been pushing myself HARD.
As I wobbled out of the gym, Chelsea said that I'd be feeling it later on.  Damn, was she right.  It hit me as she dropped me off at home and I wandered up the driveway to my house.  Didn't drop onto my front lawn like in the comic, but OW.  It was mostly in my back, up near my shoulders, at first.  Then, as I attempted to go to bed, it was my knees and thighs, screaming in agony.  Sunday I was super stiff, getting out of bed and going to work (yaaaaay…), plus very sore in certain places.  Plus I had a massive headache from possible dehydration.  Today I'm feeling okay – back's still trying to recover, knees still stiff, but I'm moving.
Am I proud of going to the gym?  Yes, yes I am.  After all, I told myself that I wanted to lose some weight, and going to the gym is a huge step in that direction.  Plus, I did manage to get through this entire rigorous workout in one piece, super proud of that.  Will I get a gym membership?  Probably – don't see why I shouldn't.
Will I continue to reward myself with ice cream tonight?  Maybe…
Don't give me that look.  I went to the GYM.