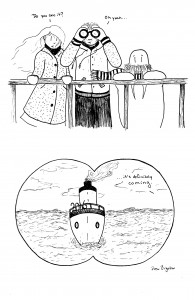 Ah, 2015.  What a year you were.
At the beginning of this year, I was hoping that you would most certainly be better than 2014 for me.  And thankfully, you did not disappoint.
Of course, I suppose it wouldn't be that hard.  Considering the fact that 2014 basically consisted of graduating from college followed up by a 6 month existential crisis plus anxiety galore, not to mention the unemployment and the numerous health issues – both the real and the imaginary ones propagated by WebMD – yeah, it really didn't take that much.
Still, 2015, I'm grateful that you came through for me.  I mean, what happened this year?  I started this blog.  I've broken through the years long artist block and started drawing regularly again.  I got a job.  A JOB.  That pays money, allowing me to not have to worry about being completely broke.  I actually got some semblance of a social life and got some friends.  My brother got married.  And did I mention the job?  Because job.
With all that said and done, I have to wonder – the heck's in store for 2016?  It's only a couple days off now, and I'm curious.  I mean, I'm taking part in a mentorship program at work.  I'll be turning 25.  It'll be two years since college ended.  But other than that, what's going to happen?
The answer is, who knows?  Maybe I'll finally start dating.  Wouldn't that be a twist and a half?  Maybe I'll move out (a heavy maybe on that one, considering).  Maybe I'll actually get a start on that writing career I always wanted to achieve.  And who knows what'll be up here on the blog.  All up in the air at this point.
2015, you really did zoom right on by.  I'll miss you dearly – compared to 2014, which I left with middle fingers up in the air and a big "SCREW YOU."
And 2016 – welcome.  Let's see what happens in the next 12 months.