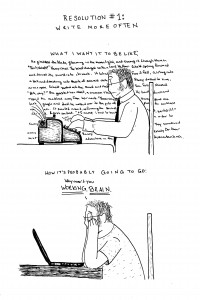 Welcome to Resolutions Week!  It's a series where I discuss what I want to happen/hope will happen during the year of 2016.  And today's topic: writing!
Yay…
So, back in college, when I was in the midst of discovering that art school was doing nothing more than crushing my soul, I took a mandatory writing class for the Honors college that reignited something in me that I hadn't felt for a while: a love for writing.  A chance to express myself in a different means, to get out all that frustration concerning what I was going through at that time.  And damn, did it help/make people worry about my mental state/wonder about art school in general.  So, at the end of that semester, I decided to pick up writing as a minor, to counterbalance art school – which, side note, turned out to be a requirement for the Honors college.  Having a minor, I mean.  Didn't even realize that until later.
Then, when I realized that art school was never going to get better, I switched over to English, which sort of allowed me to focus more on that writing skill that I had let atrophy in the meantime.  I was so focused on art for the longest time, that writing just fell by the wayside.  I had taken creative writing way back in Middle School and loved it.  But then art just took over, and I ignored writing.  To be honest, one regret that I do have is not taking a writing class in high school.  Who knows what would've happened had I focused on that instead of, I don't know, taken photography or continued on with art?  Might've been one of the few guys there, but I was already one of the few guys in both photography and art, so, what would've been the difference, really.
Loved the writing classes I took in college for the most part.  I took one short story writing class for three semesters because the professor was awesome, and my writing really improved.  Took a few non-fiction writing courses, a poetry course (and discovered that I'm not exactly poet material, but eh) – overall, a rewarding experience.  Once I graduated, though, I stopped.  Like my art, I started to ignore it, or refused to do it completely.  Instead, I decided to indulge in my anxiety, letting all those thoughts and criticisms take over and obliterate any thought I had about continuing forward.  And I didn't even know what I was supposed to be writing!  Should I have started on that novel?  More short stories?  What was the point?
Over the past year, my drawing, as you can see, has roared back full force.  It's even improved a bit, considering I was so out of practice (yes, I do look back at some of the earlier comics here and cringe).  But yet, my writing has remained stagnant.  Yes, I write here on the blog, but I want to get back into what I really like: fiction writing.  Fantasy based, world building fiction.  I had a couple moments last year where I worked with a friend and actually got some stuff done…then got lazy.
So, that is one of the things I hope to accomplish this year: getting back into writing full force, and getting disciplined about it.  That's something I think I lack in the writing department: discipline.  One of my professors, my creative non-fiction writing professor, said on the last day of class, "You have got to find some way to keep writing.  Because if you don't, you're going to not do it."  Or something along those lines.  And he was right.  Man, was he right.
I'm going to try and start writing again, and this time, get a rhythm going, like I have with my drawing.  I want to balance those two things, so I can actually do them at the same time (WHAT a concept!).  And not give up.  Hopefully.  Because that's not going to solve anything.  And it's not like I don't have the time.  I've got tons of free time.  Obviously, I need to start spending it a bit more wisely.
Here's to 2016, and here's to me getting back in the writer's mindset.