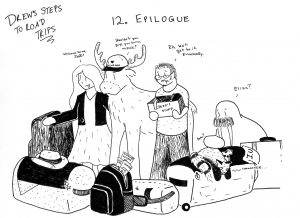 Yes, yes, I know.
Technically, the road trip is over now.  The car has been unpacked for the final time, the AC is working overtime to cool down the house, and you're actually sleeping in your own bed tonight.  What more is there to be done?
As it turns out, plenty.
It's time for the Post-Trip stuff.
First of all, you need to unpack.  Now, depending on who you are, this could take a while.  Like, maybe a month.  And maybe your duffel is still upstairs and still has stuff in it that really needs to be put away…
So if you are this lazy, it's best that you at least unpack the important stuff.   Stuff like:
Dirty laundry – because that's gross, man.  Don't just leave it in there.  Plus, you're going to need those clothes later on, so make sure those manage to get to the hamper.
Bathroom stuff – again, you're going to need that.  Not going to do you much good if you need to brush your teeth and WHOOPS your toothbrush and toothpaste are still in your backpack.
Anything electronic – cell phone, iPod, anything that needs to be charged.  Please see above.
Books – especially if you checked them out from the library.  They'll need to be returned eventually.  Also, I know you weren't able to read all of them.  So, keep the ones you are definitely going read in the near future and return all the ones you managed to read/probably won't get to.
Anything else – eh, it can wait.  For now.
Next up: laundry.  If you're self sufficient enough, you may have already done a load or two when you were at your relatives' house.  In which case, good thinking.  But you're still going have some to do when you get home.  And if you do decide to wait until you got back to your own washer and dryer, DON'T PUT THIS OFF.  Do it sometime in the next couple of days after you've gotten back.  Otherwise, you might just find that you're short on socks.  So get to it.  Throw it down the chute, sort that stuff out, and get your clothes nice and fresh.  Although you may have to wait, if someone has already staked a claim on the washer before you.  Not a problem – just pester them repeatedly to see when they're finished.
Then there is the matter of picking up the pet that you dropped off for boarding.  This also needs to be done rather quickly, as boarding ain't cheap.  So grab whomever's handy to help and swing on out to the Vet, where the pet will be (hopefully) patiently awaiting your arrival.  They'll be no worse for the wear and tear, although you'll notice that they have been avoiding their log, recently.  You'll chalk that up to the Vet having moved it too many times to pick them up for a checkup.  But that's fine – as long as they're healthy.   Which, according to the good doctor, they are, thankfully.
Now that all this is done or at least is in the process of getting done, the one thing you definitely want to do is relax.  You might've forgotten how exhausting travelling is, and you'll just want to take a moment to recover.
Well, you can't.  You have to get back to work, almost immediately.
I know, I know, you're probably whining to yourself, hiding underneath your covers praying that it'll go away.  But it won't.  You'll need to go back eventually.  And besides, you took a lot of time off to go on this trip, so you've got some time to make up.  So, put that relaxing on the back burner, straighten up, and head off to work.  You'll find that you're quite refreshed from being away for a while, remembering how tired and cranky you were pre-trip.  It may take a couple of days to get over vacation brain, but you'll get back into the swing of things.  Once you do get an opportunity to relax, though, take it.  You'll need it now more than ever, to get over both travelling and working.
And there you go!  Everything you'll ever need to know about taking a road trip, from the first days of packing to the Post Trip.  So get out there and start trekking.  There's a whole country to see, with people to meet and things to do.  Travelling truly is an experience, and an important one, as well.  Gets you out of your little sphere and away from it all, giving you a chance to reflect on yourself and this big wide world that we live in.  Take this opportunity.  Go exploring.  Life's too short not to.  Lord knows if I had the money, I'd be going all over the place.  But hey – this road trip is here, and it's ready to take you places.  So go for it.
Happy travelling, and happy reading!
Please follow and like us: