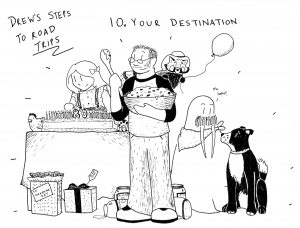 4 days.  9 states.  Who knows how many miles.
You drive across the scrubby Colorado landscape, the Rockies rising out of the mist to greet you.  You wind your way through a brightly colored neighborhood, pulling into your aunt and uncle's driveway.  Exhausted, you drag yourself and your luggage out of the car – which you don't have to repack for a few days, thank God – and prepare to collapse in your aunt and uncle's house, which they have very graciously opened up to you and your family to stay at during your time out here*.  You've done it – you have finally reached your destination.
But don't think that this is time for you guys to just sit around or anything.  No no no.  Now it's time to get ready for the main event (after dinner and a good night's sleep, of course): your grandmother's 80th birthday party.  After all, that's the main reason you came out here.  And you will be lending a hand in the next day or so of preparing.  These preparations will mostly consist of ogling at the sheer amount of jello salad that your aunt has made, trying to mentally prepare yourself for meeting a bunch of relatives that you've either never met or haven't seen in ages, and helping make the potato salad.
The potato salad.  Sweet mercy.  20 pounds of potatoes, 4 dozen eggs, and 4 quarts of pickles, all blended together with mustard, mayo, and who knows what else.  You will be put on pickle duty, motoring through those jars as fast as you possibly can, lending a hand with the eggs as soon as you're done.  Your grandmother will stop in, just to say hi, bringing with her your great aunts – one of whom you've never met but is a delight, the other who is still as awesome as ever – and her cousin, who all came down from Minnesota for the party**.  Say hi, give some hugs, and relax a bit – they're relatives.  No need to get wound up.
This will also be the day where you'll take an impromptu trip up to Wyoming, just so you can say that you've seen it.  Please refer to the rest stops post for further information about the awesome Welcome Center outside of Cheyenne.
Once you get back, settle in for some dinner, and celebrate your cousin Kelsey's birthday with some presents and ice cream cake.   Be prepared as well to greet the Oklahoma branch of your family, and marvel over how long it's been since you've seen them.  For the record, it's been at least a decade.  Or it will certainly seem that way.
That next day is the big one: Party Day.  Help your Aunt Cindy finish up those snack cards (cards labelling little snack baskets that'll be set on the tables throughout the party), then help pack the cars and head out with your dad and uncle to pick up some watermelons and the cake.  It's a huge cake, and you will wonder how much will be left over at the end.  Spoiler: none – that'll probably be the biggest shock of all.
Go over to the party location – a lovely little center on the edge of a lake – and help set up the party!  The theme of the party is Life on the Farm, so get ready to see cows and chickens galore, complete with a photo booth corner expertly set up by your cousins Suzanne and Shannon with farm related props.  You'll be on food duty alongside your cousin Tayven, which basically means that whenever something runs out, you need to refill it.  Thankfully, there's plenty of jell-o and potato salad to go around.   Your aunt was very well prepared.
Soon enough, the guests will start pouring in.  You'll mingle a bit, do some people watching, and be introduced to your grandmother's friends and a whole passle of relatives.  Feel free to hop from snack bowl to snack bowl.  No one's judging you.  Also be free to note that a certain member of your party has been given the job of being the Welcome Table – a job that you're sure she did not object to at all.  Another member will be the MC of the whole event – a job that he actually volunteered for.  Wonder how you might be related to these people.
Finally, it's time for food.  Fill your plate and tuck in!  And keep an eye on the food if it needs to be replenished.  Which really means have your mother keep an eye on the food if it needs to be replenished so she can remind you.  Then get ready for a game of Two Lies and a Truth, all about your grandma.  You'll actually learn some things about her that you never knew, like she really enjoys square dancing, which will surprise everyone, including her children.  It'll be fun times all around.
Soon, it'll be time for some cake.  You might hover around, ready to take a piece when the time calls for it.  You'll also be asked to join in with some family pictures, decked out in farm animal props and cowboy hats.  As the party winds down soon afterwards, help take some things down, saddle up the cars and head back to your aunt and uncle's house for the after party.  All the relatives will show up for some brats and leftover jell-o (there will be plenty for days.  DAYS).  You will end up going upstairs from time to time to recharge a bit, but you'll always show up for food.  All in all, the party and the afterparty will be rousing successes, and your grandmother will be thrilled to pieces.
The next couple of days will consist of hanging out with your grandmother some more at her house, having some lunch with even more jell-o salad, which you'll realize is definitely a midwest thing, as well as meeting up with some other family members on your mom's side for breakfast at the Egg and I, which will also be a great time.  You'll also get to bond with your aunt and uncle's dogs Cali and Blue quite a bit.  At first, Cali might not be sure what to think of all these people intruding in her house, but she'll warm up to you and your family.  You'll find a kindred spirit in this dog, what with her people avoiding tendencies and all.  You might wonder if this will be the time to pester your parents about getting a dog, which you've only been doing for the past couple of decades.
OH – and you and your Uncle Steve may or may not discuss a very big huge honkin' thing for your website which might be happening very very shortly!  Stay tuned for that update!
Overall, you'll have a great time out there, and be really glad that you were able to share in this experience.  After all, it's not every day some one turns 80, and you'll be happy to help your grandmother celebrate hers.  But as with all things, it'll come to an end.  Soon, you'll have to start thinking about packing the car and making the long trek home.
*Thank you guys so so much!
**A lot of people at the party will be from Minnesota or the Midwest in general.
Please follow and like us: