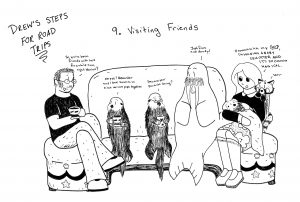 Aside from checking out new places, road trips are a great time to reconnect with old friends who you haven't seen in ages.  You may have been merely chatting with them on whatever social media platform you were on when – ding! – the idea hits you.  You might ask, "Where are you guys?"  Upon discovering that you will, in fact, be passing through their neck of the woods on your way out, you realize that why not take the opportunity to meet up with them?  You know, actually see them in person as opposed to just having Facebook conversations with them?
So, you make plans to meet up with them.  Again, something you should probably do before commencing on this journey across the country.  And it should be really exciting!  Or really nerve wracking.  After all, you might not have seen these guys since you were in diapers, playing with their own kids.  Or they were your old piano teacher who managed to get you through your last year of piano lessons before you said you were done forever with that blasted instrument.  Or maybe they're friends of your mother, who you're not exactly sure if you've met before or not.  They may recognize you, but you don't recognize them.  Just chalk that up to the fact that they all probably religiously follow your mom's Facebook page.
Please note that as with most things in life, it is best to involve food in this equation.  So make plans to meet them at a restaurant, because all conversations are better over a meal.  This can also help with any awkward silence: shoveling food into your mouth.  Or perhaps these friends will offer to make you breakfast at their house.  Take this offer.  It's free food, people.
Now is the time to play catch up with your pals.  After all, that's why you're there, right?  Find out what they've been doing in the decades that you haven't seen them.  Ask about their kids that you may or may not vaguely remember; see who's getting married or who's in the process of starting a family and making you feel slightly behind the curb.  And most of all, don't forget to take a picture with them, because somebody will want to remember this moment.
There is the chance that they'll offer their home to you to stay at for a couple of days on your way home.  Like the free food above, take it.  Hotels will get old after a while, and this requires no money at all.  Plus, it'll give you more time to catch up with them, and maybe even visit them at their job, which might be a school that they literally started all by themselves, which you will be thoroughly impressed with.  You might also get to see some more of their own family, like the new grandbaby, who will be super cute and remind you of how much you do, in fact, like babies*.
You'll be amazed how much you can pack in on one trip, from visiting chums to checking out museums to seeing just how long you can wait between rest stops.  But let's not forget, you're on this road trip for a reason: reaching that destination.
Side note: did you know that male sea otters bite female sea otters on the nose when mating?  The things you learn when you look up "sea otter nose."
Side side note: no, I don't know what sea otters would be doing out in the Midwest.
*Babies.  Not children.  There is a MASSIVE difference.  Trust me.
Please follow and like us: