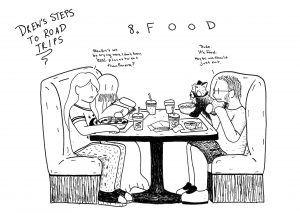 Uh-oh.
You've been on the road for the while now, and everyone's starting to get a little cranky.  A bit of snapping here, a little sullenness there – the mood has definitely taken a turn.  This can mean a couple of things.  One is that you guys have grown sick of each other.  The other is that you're all gettin' hungry.  Most of the time it'll be the latter.  Better fix it right quick by finding a place to eat.
You can go one of two ways in regards to this.  One is the obvious – stop at the nearest fast food establishment that you can and nosh down on some nuggets.  No one will blame you for doing so, especially if you've been driving for what seems like ages.  Besides, you're on vacation – it's not like eating fast food is something you do all the time back home.  So take advantage of this and go grab some Chick Fil-A, because waffle fries are clearly surperior to all other fries*.  Or swing on down to that Panera's, which you're still trying to decide if it's fast food or not**.  I mean, technically it is fast, but it's also all sandwiches and soup and bread, distinctly non-traditional fast food fare.  So, maybe not.  But I'm getting off track.  Fast food: it's there for you when you need it.
The other option is to try a more local establishment.  A place where the natives go, so to speak.  These will be easier to find when you've stopped for the day or night in a certain town.  For example, that Chinese restaurant that is literally across the parking lot from the hotel.  Watching the table next to you be familiar with the hostess and the entire waitstaff will make you realize that you have indeed found a local hotspot.  In terms of food itself, be sure to try out their sesame chicken, kind of like how you always try a breakfast place's french toast.  See how it compares to other places'.  You're gonna enjoy it, regardless.
That same "go where where the natives go" principle will also apply to the restaurant in Cantigny Park.  It'll really just be a huge dining room, but it'll be a beautiful day, and the locals will definitely be out there in droves.  You'll surmise that it is one of those places people go when the weather is just right.  And their BBQ Pulled Pork sandwich will be amazing.  A little messy, but amazing.  And you really won't care, because barbecue sauce makes everything better.
There will also be that tiny hot dog joint that you'll pass three times before you finally find it, tucked away.  Technically, it'll be a glorified hot dog stand, but hey – you'll be so hungry it won't even matter.  And their ice cream will be amazing.  Feel free to look around and realize that you are indeed in the heart of Bear Country, because this place will be hardcore dedicated to the local high school.  Perks of being in a small town.  Also do some people watching, seeing how a small town interacts.  It'll be fascinating.
You can go check out a regional restaurant chain, too, such as the Egg and I, which appears to be exclusively in the Midwest.  It'll be solely a breakfast place, which will please you immensely if you're the type of person who loves breakfast food.  And yes, you will get the french toast.  And it'll be worth it.
Also, a quick note: if somebody says that they're not hungry and just want to sleep, they're lying.  Yes, they do want to sleep, but that'll be masking their true hunger.  You'll notice this as they demolish their soup, then chow down on the appetizer as well.  This only serves to prove that skipping food is never a good idea.  Because Lord knows how they'll be later if they didn't actually eat anything…
Like rest stops, food places play an important role in the whole road trip plan.  They are places to get out and walk around a bit.  A chance to see some new scenery besides the inside of the car.  And an opportunity to blend in and do what the locals do, in the cases where you go to a local establishment.  They are also a fantastic place to do something else that you can do whilst you're on the road: meet up with friends.
*You know it in your heart of hearts that this is indeed true.
**"It's not fast food – it's real food!" – My mother
Please follow and like us: