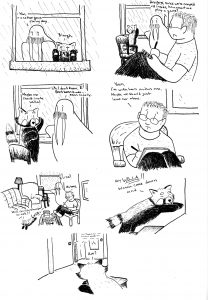 Several things.
First, this is an accurate representation of what the weather has been like for the entire month of May: gray and wet.  Not even close to spring like.  Hopefully we'll got some sunshine soon.
Second, would you just look at that living room shot in Panel 5?  Not sure why I got so freakishly detailed with it, nor do I know why I'm not sitting on the couch.  I blame laziness.
Third, I have finally nailed Eliza's character design!  Which I think is something to be incredibly proud of.
And lastly, might we be getting into a new storyline?  I think so!  And might it be incredibly Willa-centric?  It could be.  Am I excited to do another story?  YES.
Please follow and like us: