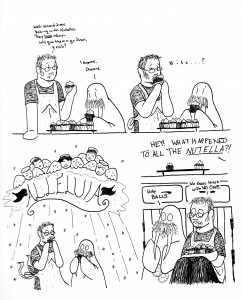 A while ago, I did a comic about attempting to bake with Nutella, and how the cupcakes basically imploded into a big, sticky mess.  Admittedly, I was working without an actual recipe, hence the cupcake horror I unleashed in the oven.
This time, I found a recipe whilst scrolling through YouTube for Nutella cupcakes.  And I thought, well, might as well give it another go then, I suppose?  I needed something to do, or risk yet another day of staring at my ceiling.
So, I did.  First time doing several things that I've never done in the kitchen – baking with sour cream, for example, as well as working exclusively with egg whites.  That meant I had to separate the eggs, and for the most part, it was a success.  Got a little bit of yolk in them, but didn't seem to affect the cupcakes too terribly much.  I'd definitely chalk that up as a win in the kitchen.
Once the cupcakes popped out, they smelled AMAZING.  They looked pretty good, too – they didn't collapse, or sink in the middle, or overflow the tops (mostly my fault on that one – I have a tendency to overfill the cupcake liners).  I let them cool, whipped together the Nutella buttercream, frosted them, and then proceeded with the most important part of the entire process: tasting them.
Holy.
BALLS.
They were so GOOD.  They were light and fluffy, with that nice crisp top that I personally enjoy on my cupcakes (don't know how I achieve that).  The Nutella flavor was that melding of hazelnut and chocolate, with a tangy note in the background from the sour cream.  The buttercream accompanied it quite nicely without being too lumpy.
I was stunned at how well they had turned out.  The past couple of times I made cupcakes, they had only been okay.  A little too crumbly, or too moist.  But these – these turned out perfectly.  To be honest, the best thing I had baked in a while.
If there's anything I learned from this, it is that you can bake with Nutella.  And also recipes are your friends.
Mmmm…
Please follow and like us: