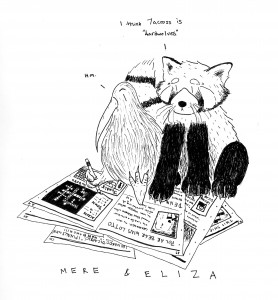 It's been a tiring kind of week.  So what do I do when I'm tired?  I draw a Kiwi Bird and a Red Panda doing a crossword puzzle.  Because red pandas are adorable and kiwi birds are just funny looking birds.
Keep in mind, these two may pop up sometime in the near future.  Who knows?
Also, red pandas are kind of hard to draw.  You need to make sure that they have the right markings, or they'll end up looking like a raccoon.  I think they're related.  Are they?  I don't know.  Google to the rescue, I'm sure.
Side note: whilst writing the headlines for the newspaper, I realized that the Oscar nominations came out.  Hence, the Leonardo DiCaprio headline (here's hoping it's actually prophetic – guy deserves it.  Don't think I've ever actually seen him in a movie, but hey).  Also realized that I did not see a whole lot of movies last year.  I saw a grand total of two in theatres: Pitch Perfect 2 and Inside Out – twice.
I like movies.  Just didn't get around to seeing a whole lot of them last year.  But I might want to check out a couple of the ones nominated.  Probably The Martian and Brooklyn.  Maybe Mad Max: Fury Road.  Not so much Room.  Because I'm not sure I'd be able to handle it.  Props to Brie Larson for getting nominated, though.  Saw her back in the day in a Disney Channel Original Movie Right on Track.  And wow I got off track.
Anyways, Eliza.  Mere.  Adorable.  May show up again.  Because awwww.
Please follow and like us: