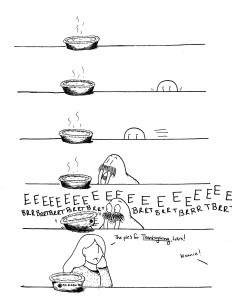 Down to the home stretch, people.  That last few days before Turkey Day.  And some people are gettin' mighty hungry and attempting to sneak a bite or two.  But really, who could resist a nice big slice of fresh out of the oven pie?  Unless it's like, I don't know, Key Lime or something.  I think that's supposed to served cold.  And so is chocolate pie, I guess.  But who can wait that long for pie?
Side note: I like pie.  I like pie quite a bit.  Because pie.
Side side note: I tried to make my own pie dough once.  Failed miserably.  Have stuck to the pre made crust ever since.
Side side side note: I will be making a chocolate pie for Thanksgiving this year.  Get jealous.
Please follow and like us: