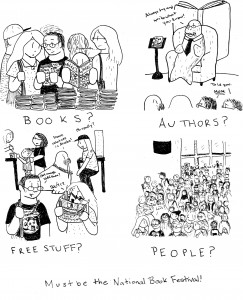 This past weekend was the National Book Festival in Washington, DC – a celebration of books and the people who both create them and read/live/breathe them, i.e. my family.  This year was its fifteenth year – which is mind boggling to think about, especially since this was my fourteenth year of attending it (I was ELEVEN going to my first one.  Holy CRAP).
I have gone to every single Book Festival except for the first one, since we were currently living overseas at the time.  Not that we missed much – apparently, it was held inside the Library of Congress and wasn't supposed to be very good.  Which I think is to be expected of anything's first run out the gate.  Anyways, then they moved outside to the National Mall, which gave it a lot more space to work with and allowed for more people to attend.
This year, and last year, they've had to hold inside the Walter E. Washington Convention Center, though, since the National Mall is currently undergoing some sort of renovation, because when in Washington, DC is something not being renovated, seriously.  Last year…wasn't the greatest, admittedly.  We didn't do much except walk around a bit, grab some posters, and avoid getting trampled.  I think we were just trying to get used to the new place, as were the people running the event.
This year was much improved.  They moved some things around, moving the Book Sales, the States Pavilion, along with their usual children's activities and other elements downstairs where there was much more space to spread out.  This allowed for a much more fun experience of going through the States Pavilion – basically, a tour of the states and US territories and their literary claims, aka Tons o' Free Stuff Central – as we weren't completely squished together and trying to not run over small children.  The Louisiana table was packed, as usual, with children trying to snag themselves some Mardi Gras beads, and maybe some adults (*cough*).  Last year, I can't remember which table, I wanna say Montana, but I tried to take a pencil, only to get my hand smacked and told that they were only for the kids, which left a bad taste in my mouth for the rest of the day.  This year – much more generous.  Seriously, they were like, "You want a pencil?  Here, take one.  Take a pen.  A bookmark.  HAVE IT ALL."  And I was like, hells yeah.  By the time we got out, my dad's bag was approximately the size and weight of a small child, he got so much stuff.
There were also a few tables that I'd never seen before.  One had a display of book sculptures – turning books into works of art.  Another featured those adorable, little Free Libraries – little birdhouse like structures that basically let people trade books for free.  So cute – and so elaborate!  Like, seriously, there was this gorgeous, midnight blue one with white trim that they were giving away to some lucky winner.  Not me, obviously, otherwise I'd be like "LOOK AT THIS.  IT'S MINE."
There was a balloon artist as well, making balloon hats, swords, flowers, stuff to keep kids entertained.  Of course, this was usually followed by a loud pop, then some kid crying.  Called it.
Because of the space, food carts were set up on the very ends, offering lunch and other snacks so that people weren't turning into complete monsters.  Mom and I stopped by this little caribbean stand and ordered their jerk chicken and rice.  Smelled amazing – tasted like Satan stabbing our tongues.  So friggin' hot, man.  We had steal some of Dad's pizza just to cool our tongues down.
Next to the book sales, a big white wall was set up, asking people to write what they would miss if they were illiterate, a major problem across the world.  It sparked a very interesting conversation – what would it be like if we were illiterate?  I honestly don't think I'd be able to function, at all.  It'd be like missing out on this massive joke that everyone else was in on.  I mean, how could you even get around?  There's a need to read everywhere you go.  It'd almost be like not being able to use one of your senses.  And for someone who's been reading for as long as I can remember, it's just very strange to think about.  Very strange indeed.
Of course, there were books.  Books EVERYWHERE.  The Book Sales tent was packed, per usual, with tons of people looking for the latest books from their favorite authors.  I picked up a book called "Where's Walrus and Penguin?" because, well, come on.  It's in the title of this blog.  Walruses.  It was actually a sequel to a book I got last year called "Where's Walrus?"  The author, Stephen Savage, was actually attending this year.  Didn't get to see him, but I got his book!
Then, there were the authors.  Usually, we try to get some autographs, but this year was more of a listening year.  Getting to kick back and listen to authors talk about writing and their new books.  I got to listen to a couple this year – Peter Sis, a children's book author, whose talk was super short, but insightful, and Rachel Renee Russell plus daughters Nikki and Erin, the minds behind the Dork Diaries series.  Now, I'm a little above their age group, but it was probably the high point of the day listening to them speak.  They were adorable – they wore matching animal prints, Nikki the illustrator, who looked like the main character, actually drew some of the audience members while her mother spoke, Rachel was so down to earth and seemed genuinely surprised at how successful her series was doing.  When she announced that Dork Diaries was being made into a movie, she seemed so excited!  And she got some amazing questions from the crowd.   I mean, I had to take a second look at some of the kids asking questions.  "How do you deal with rejection letters?"  "What inspired you to start writing?"  "How to deal with writer's block?"  Very insightful questions, I tell you.  And of course, when she said, "Write what you know," Mom immediately turned to look at me to be like, "I told you so."  Yes, Mom.  I KNOW.
The downside was that they had to clear the room before the next speaker, Jon Scieszka, who Mom and I wanted to hear speak.  But apparently, we had to leave and get back in line, which was ridiculously long and really not worth it.  A stupid rule, in my opinion.  And one of the downsides of shoving the Children's authors in a smaller room.  I mean, the line for Buzz Aldrin was ridiculous.  They had to create another time slot for him!  It was about this time that we decided it was best to head home, before we got too tired to really function.
I do enjoy the Book Festival a great deal.  Mom has told me that she and Dad do this for me, the writer/artist of the family.  I have to admit, I do get inspired going to the Fest.  It's like a feeling of, Oooh, I want to be here one day.  I mean, I need to be writing more to do that, granted.  And I'm trying.  The dream is to get published one day and have people read my books.  It's a dream I've had for a while now – probably since childhood.  And getting able to meet some of my childhood heroes, like Tomie DePaola, Jon Scieszka, Kathleen Krull, Patricia Polacco, Marc Brown, R.L. Stine, Jack Gantos (just to name a few) – it's mind blowing.  And exciting.  As well as discovering new authors, like Jon Klassen or Suzy Lee.  It's a load of fun.  And listening to them speak, giving advice and showing how they work/write – truly, truly inspiring for a younger writer.
All in all, if you're a bookworm/aspiring author, go.  Just go to the Book Festival and have a great time.  14 years now and I still get excited when the list of authors attending pops up and we get to plan our day.
And remember – read, folks.  Read everything.
Please follow and like us: