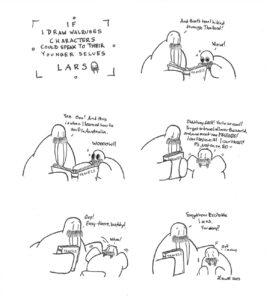 I've had this idea for a series for a while.
What would certain characters from IDW say to their younger selves?  Would they offer advice?  Marvel at how weird they were as children/teenagers?  Or just listen to themselves vent?
For Lars, I think he would want to show what he's done and where he has been, mostly to encourage and inspire himself.  And maybe show off just a tad.
Also, no matter what age, he loves making new friends.  Period.  Where he grew up, though, made that a bit hard (small island off the coast of Greenland).  He kind of knew everybody already.  Part of why he set off to see the world.
Please follow and like us: