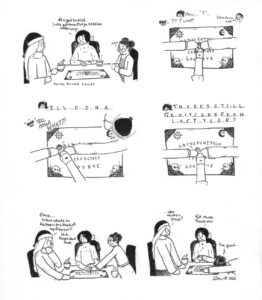 Originally, this comic had a completely different premise, where one of the witches would be the one pushing the planchette to be like, "Whoa, the spirits are asking you to buy me this really expensive Christmas gift!  Well, if they say so."
Then I realized that it just didn't work.  This would fit none of their personalities – Lydia's too anxious, Iris is too proper, and Oona is too…Oona, to try and pull that off.
Hence, the comic you see here.
Please follow and like us: