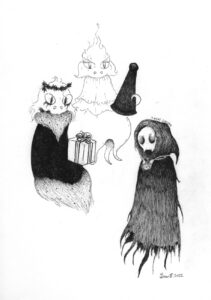 Doodcember, hosted by the amazing IG Doods, has come around again!  And this time, it's got a bit of a supernatural/cryptid twist to it, as seen here with the first prompt, Three Ghosts, featuring Dot and based on a drawing I did last year for Doodcember!
Now, will I get through all of the prompts, or abandon it halfway through, like Drawtober?  I dunno.  Hopefully not.  We'll see.
Also, it's kind of weird seeing Dot so…light?  Happy?  Whatever it is, it's strange.
Please follow and like us: