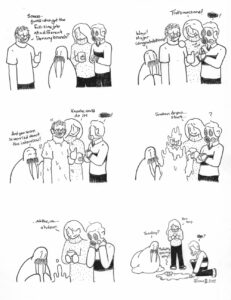 I swear, I will get back to Drawtober eventually.  I just needed to get this out of my head.
Long story short: I got the job.
Starting the week after next, I will be a full-time library circulation aide at a different branch in the system.
And I have a lot of feelings about it.
There's been this undercurrent of sadness through it all, mostly at leaving the place I've been working at for 7 years.  I will definitely miss the branch, my coworkers, even the patrons (some of them).  It feels bittersweet, you know?
Then there's the NERVES.  I'm heading off to a new place with new people, and I have zero idea how it's going to turn out.  It's been a while since I've been to this particular library, so it's foreign territory.  And I hope I made the right choice.  Also, there's gonna be the transition from part-time to full-time that's got me super anxious.  Like, am I going to be able to handle it?  I'm going to be losing a lot of free time – will I still have time to do things like draw?  What am I getting myself into???
Also feeling a bit of guilt.  I feel like I'm leaving my library in a lurch, now that it's going be short-staffed.  Who knows how long it's gonna take to fill those positions?
On top of everything, though, is the STRESS.  I am trying to make sure I get everything done that I need to get done before I head out, and I don't have a lot of time to do it.  It's driving me a bit crazy at the moment.  I'm glad I don't have to take work home with me, but oh my GOSH AHHHHHHHHHHHHHH.
So, that's how I've been – all these emotions just mixed together.
However.
There is this little silver thread, shining through it all: excitement.  It's getting a bit crowded out, but it's there.  This could be fun, right?  A new place to show my stuff at, make my mark, and be the best library aide I can be.  Plus, I will be doing the same thing I'm doing now (just more hours), so it's not like I can't do the job.  I'm not starting from zero here.  I just need to settle into the branch.
Phew.  That's a lot of emoting going on.  But it's all happening.  And I do plan to keep drawing through it all, even with the longer hours/less time.
So – here's to the new job, and to my emotions (hopefully) settling down after a certain point.
The next post will be a Drawtober post.  Promise.
…oh god, I'm gonna sweat so bad.
Please follow and like us: