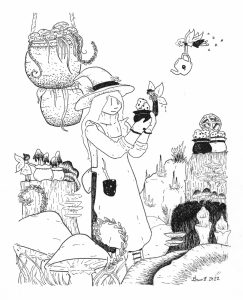 It's October once again.
And you know what that means.
It's time for another month-long drawing challenge!
…sort of.
Okay, so truth be told, October kind of snuck up on me, and I had no clue which challenge to pick.  The official Inktober list was…not great.  When one of the prompts is "Booger," it's best to look farther afield (ick ick ICK).
Also, with a whole bunch of things going on right now, and unsure about my mental bandwidth being able to juggle everything, I wasn't sure if I'd be up for a challenge similar to past Octobers.
Then I came across Drawtober.
6 weeks.  6 prompts.  The theme this year is witches.
This – this I can handle.
So, with that in mind, here's the first drawing for the prompt Garden of Magick, featuring my near and dear mushroom witch, Oona.
Not your usual garden, but then again, Oona's not your usual witch.
And she's got a few helpers lending a hand with her fungi friends!
Simply magical.
Please follow and like us: