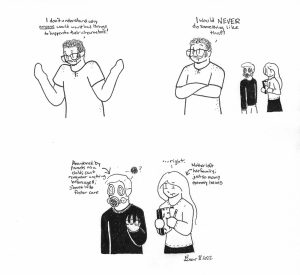 This thought did pop into my head the other day after seeing someone on Instagram mentioned doing this to their own OCs.
Like, I would NEVER want anything bad to happen to my characters.  They are my BABIES.
Then I remembered Quincy.
Then I remembered Willa and the backstory I made for her years ago.
So, well, "never" might not be truly appropo, really…
(Heck, I might even throw Dot in there…)
Please follow and like us: