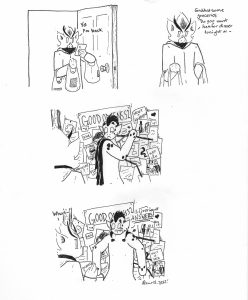 So, I keep seeing stuff for the second season of Good Omens popping up on Instagram.  And some of the posts  start off by saying "SPOILER WARNING" before showing us the actual picture or whatever.  They usually end up being a photo of the show in production.
And I'm like, "…what exactly does this spoil?"
Because, there's nothing remotely spoiler-y there.  It's just the main characters in a graveyard with a barrel of pickled herring.  Nothing has been spoiled yet.
Knowing Abel, though, he's taking all of this photos/clues VERY seriously and WILL discover the secrets of Good Omens Season 2.
Possibly.  Maybe not.
Please follow and like us: