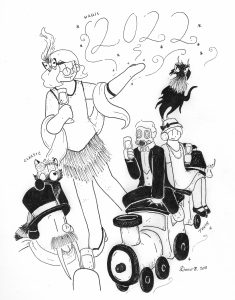 Here we are, folks.
At the end of another year.
Soon, 2021 will be in the rearview mirror – or in some places around the world, it's already gone.
I have no idea where this year went.  Time did that fun thing where it would speed up, slow down, warp around itself until you forgot what day of the week it was and wondered where the hell June vanished to.  I completely forgot that I had surgery back in March until this morning.  Just feels a bit bizarre.
I know that it's been a hard year for a good many people.  So, here's to hoping that 2022 is just, better for everyone.  And maybe we can start the Roaring 20's Redux that we were promised?  Hence the outfits here?
Fingers crossed as we surge towards midnight and into a new year.
Please follow and like us: