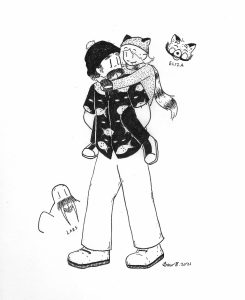 First off, a Happy Thanksgiving to one and all!  Hope today is full of food, family, friends, or however you're celebrating today!
This month – I have no idea what happened.  I just didn't draw as much as I would've liked.  I don't know if Witchtober just took it out of me or what.  But I'm coming back, for sure.
And I thought I'd start off with an idea that I've had for a while now – translating my nonhuman characters into humans.
So here we have Lars and Eliza.  I think I made Lars' mustache/hair a bit too dark, but other than that, I quite like how they turned out.
Next up will be Jeff the Reindeer and Dot!
Please follow and like us: