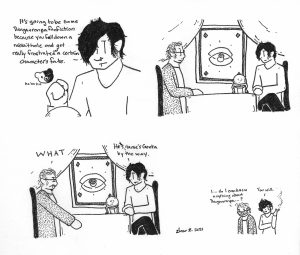 So the last time I wrote something that could be classified as "fanfiction," I was probably 10.  It was some weird Powerpuff Girls meets Little Red Riding Hood piece that only made sense in a 10-year-old logic kind of way.  Also drew plenty of fanart – pretty sure I still have some of it logged away somewhere.
Now, the last time I actually wrote period – it's probably been a few years now?  I've been telling myself to get back into at some point, I keep coming up with all these ideas – and then I never do anything with them (unless they have something to do with I Draw Walruses).  Like, it's November, so it's National Novel Writing Month.   Told myself this is the year.  Aaaaaaand nothing.  Nada.  No novel.
No writing.
And then I fell down a rabbit hole into the world of Danganronpa this past week.
No idea why.  I had some vague idea of what it was – teenagers trapped in a school being forced into some warped killing game – but like, I think I was watching some random video that featured it and decided to look further into it.
And here we are.  I actually sat down and wrote a piece of fanfiction featuring my new favorite character, Gonta Gokuhara (Drew's fixating on a fictional character again whaaaaat).  Who really needed a new ending because I didn't like the canon one.  So I wrote one.
It's not bad, but I can definitely tell, I'm rusty.  But it's not bad.
And now I have more ideas for Danganronpa fanfiction.
I guess what I needed to write again was a video game about teens killing each other.
I don't know either.
Please follow and like us: