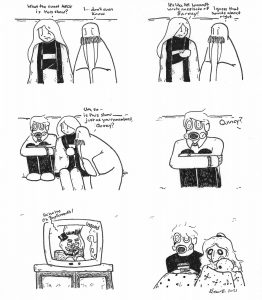 A baby Quincy has been spotted alongside baby sister Agatha!
Just some quick Quincy Appleby lore – he has no idea who his parents are.  In fact, he doesn't even really know where he came from or what he is.  He sort of just appeared one day in a park with Agatha when they were about 6 and 3 (this flashback takes place about a year after that, so they'd be 7 and 4 here).  All they had were a couple of beat up suitcases and their names.
They did bounce around the foster care system for a good while – people tend to get a little freaked out with a couple of masked kids with claws.  They were eventually taken in by their adoptive parents, the Applebys, who I picture as kind of an Addams Family couple, cheery and grim at the same time.  But for a long while, it was just Quincy and Agatha.
And now I've made myself sad.
Please follow and like us: