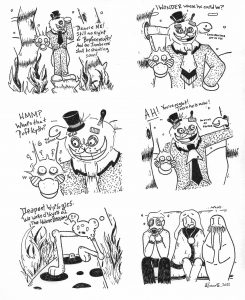 I know what you're thinking.
And I agree!  "Jamboree" and "haberdashery" are two wonderfully underutilized words.
I know you're also probably thinking things like, "Drew, what the hell is this?" and "What ARE those things coming off of Bopfenmuth's body?" and "Is Puffkyth okay?"  Really don't have clear answers for the first two, but I can honestly say that yes, Puffkyth is doing just fine.
Or maybe he isn't.  It's hard to tell his "I'm doing just fine" face from his "gazing into the abyss and being overwhelmed by the world's sorrows into a state of catatonia" face.
Please follow and like us: