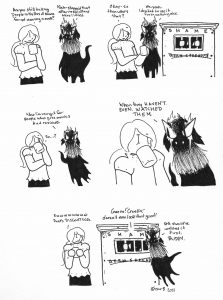 This really is one of my pet peeves.
It's one thing to see a trailer, or read a synopsis, and think, "Yeah, that's not my cup of tea.  Won't even bother."  Or to read the reviews and think, "Ech, perhaps I won't be seeing that."
It is another thing entirely to post a bad review for something that you haven't even experienced.
I see it a lot, especially for certain video games (POKEMON POKEMON POKEMON).  People review-bombing something, giving them negative scores because they think it looks bad.  But that's not an actual review.  That's just someone jumping the gun and wanting to drive the score down.  It's pretty much a useless comment.
If you disagree with a movie/book/whatever and don't want to watch/read/whatever it, that's fine.  You are free to comment or discuss why.  But don't leave a bad review on it.  Leave that to someone who's actually watched the damned thing.
Please follow and like us: