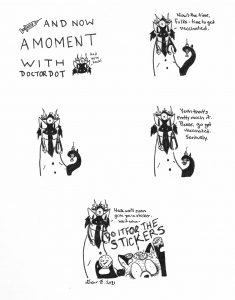 I am actually not sure if they hand out stickers when you get your second shot, but if they do, then hey – free sticker.
Got my first shot this past Friday.  Have to wait until the end of the month to get my second dose.  But it feels good to at least be on the way to be fully vaccinated and have one less thing to worry (less) about.
Does this mean I'm whipping off the mask and licking doorknobs?  No.  But contributing to herd immunity takes the edge off a bit.
Please follow and like us: