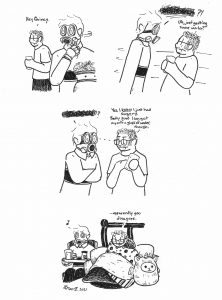 First of all – I'm fine.
It was just minor surgery to correct an issue that I've been dealing with since last year.  And I'm feeling much better.  Or at least I'm getting there.
It was a series of firsts for me, though.  First time having to put on a hospital gown.  First time getting an IV.  First time getting wheeled away on a gurney.  First time getting one of those canulas shoved up my nose.  All stuff I'd seen before but I've never experienced myself.
And I was extremely nervous about all of it.
Especially the anaesthesia.
My anxiety-riddled brain decided to focus primarily on that.  Every worst what-if reared their ugly little heads.  What if I had a bad reaction?  What if it sent me into a coma?  What if it just didn't work at all?  Fun stuff like that.
It was probably a control thing – being sent to sleep by something else that wasn't me.  Or a deep fear of death.  Possibly both.
I just kept seeing this surgery as some weird endpoint.  Like, everything was going to end on Monday and I couldn't see anything else beyond that.  I wasn't going to finish my list of books or play Pokemon or draw or eat or anything.  It would all just end.
Clearly, though, it didn't.  I'm still here.
The anaesthesia as a whole was an interesting experience that could be basically summed up like this:
Anaesthesiologist: Okay, I'm giving you the anaesthesia now.
Me: Huh.  I really hope this works.
H   E   A   D   R   U   S   H
Me: Woo heady I guess it's working –
Cue me coming to in the recovery room feeling extremely loopy.
After finally being able to get up without feeling dizzy and getting dressed, I was able to go home.  Which is where I've been for the past few days recovering.
I am doing much better than I was for the first couple of days – I was mostly tired and sore and not wanting to do much.  Just been taking it easy.  I actually get to go back to work tomorrow, where I will not be pushing myself.  I will just be going slow to make sure I don't end up hurting myself.
In the meantime, I'm going to be spending my last day at home relaxing and continuing to heal.
Because even though it was technically minor surgery, it was still, indeed, surgery.
Please follow and like us: