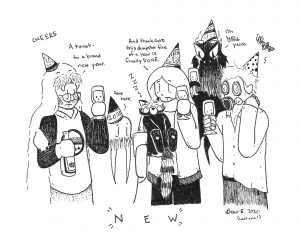 So.  Here we are.
Doodcember is finally finished, just in the nick of time.  Had a great time doing it.
And at the same time, 2020 is coming to an end.
Thank.  GOD.
This has been an extraordinarily trying year.  We all went into it with such high hopes, and what did it give us?
Pain.  Never ending pain.
We were on the brink of World War III.  Australia was on fire.  The West Coast was on fire.  Murder hornets reared their ugly heads.  There were protests all Summer long.  And on top of all that, it was an Election year.  A really, really ugly Election year.
And of course – COVID.  Friggin' COVID-19 upending just about everything, casting its nasty shadow across the entire world, highlighting the true depths of human stupidity.
…what a year.
On the plus side, I've ironically enough seen more of my friends than usual.  I've rediscovered an old character (Dot!) and created a new one (Quincy!).  I've participated in a couple of fascinating art challenges.  And I've started therapy.  So, a few high points.
So what is going to happen in 2021?  Who knows.  The fact is, the bar is set so low, and we are entering it bruised and bloodied.  So hopefully – HOPEFULLY – it can only go up from here.
Hopefully.
Please follow and like us: