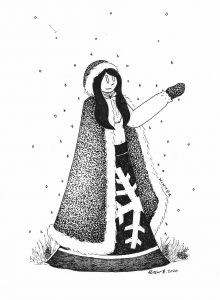 Oh GOD, Drew's doing another month-long drawing challenge WHAT IS THIS.
But yes.  Another Instagram artist that I follow, ig_doods, has launched a challenge for December, all focused on the holidays/festivities that the month brings.
And I'm going to give it a go.  I definitely will need some help getting into the holiday spirit this year, so here goes.
Starting off with our friend Winter here, who's taken a nice little break from 2020 but is now ready to get back into the game.  Maybe.
Honestly she's not exactly sure, having seen what the other seasons have had to go through this year.  But, well, she doesn't have much of a choice.
Please follow and like us: