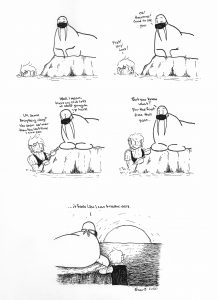 Saturday.
I was at work, doing what I needed to do, collecting books to be placed on hold, trying not to think about anything super hard.  I'm just about done when I hear this noise.  No idea where it came from, almost sounded like some kid that was either really upset or super excited (hard to tell sometimes).  I shrug, and wander into the back room to start processing books.
That noise was my boss.
And that was how I found out that Joe Biden won.
Honestly, right now my feelings are a bit more mixed than presented in the comic.  Characterwise, I'm sure Lars is breathing just fine.  And so am I.  It's like 2020 decided to finally throw us a bone at the end of the year.  Kind of like a miracle.
And yet.
I'm still struggling with this deep down feeling of doubt.  Like, some lingering unease or anxiety lurking about.  What if something else happens?  What if things suddenly flip and What's His Face manages to pull something off?
What if, what if, what if.
I want to be Lars here.  I want to be able to fully embrace this and just breathe without these under-feelings.  And I believe I can.  I need to take care of myself, though.  I need to make sure that I avoid falling down certain rabbit holes and winding myself up, period.
Then I can settle into this peace.  Hopefully.  And actually celebrate.
Please follow and like us: