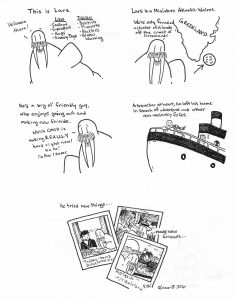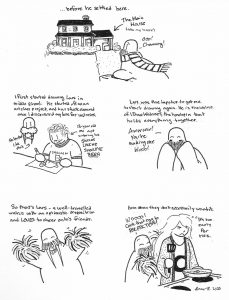 First up in character introductions: the walrus in I Draw Walruses, Lars!
He really did come about during an art class project.  We had to make papier-mache masks of any character we wanted.  I decided to take inspiration from Shel Silverstein and create a walrus with braces.  From here, Lars was born.
I would often pair him with Dot whenever I drew him all through middle school and high school.  They just seemed to be a good match, riffing off of each other with their different personalities.
During college, Lars sort of disappeared for a bit.  Even then, though, I would try to squeeze walruses into at least one art project per course (minus my life drawing class – I don't think I would risk it given the terror that particular professor struck in me).  I even wrote a story featuring talking walruses for one of my writing courses once I fled the art department.
Walruses have been my trademark for quite some time, as you can see.  When I started up this blog, clearly, walruses needed to be involved.  And Lars came bouncing back into my life.
It's hard to believe it was just me, him, and Willa for the longest time.  And now it's become all this.  Lars was truly the beginning of it all for me – getting back into drawing and creating.  I'm fairly certain if I ever get something done in the picture book arena, Lars would be front and center.
Next up: Willa!
Please follow and like us: