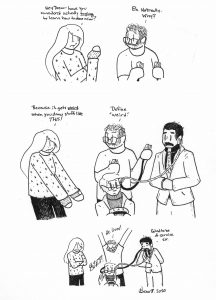 Really, I try to avoid to draw anything with wheels.
Had a brief moment of panic this past week when my car decided to not start one morning.  Instantly thought this was gonna be Old Car all over again, with the added twist of "BUT I'M STILL TRYING TO PAY THIS CAR OFF HOW CAN YOU DO THIS TO ME RAAAAGGGHHHH."
Turned out, my car just needed to have a new battery.  It's nice to have a car where someone mechanically inclined can actually pinpoint what's wrong instead of being stumped.  Truly glorious.
Please follow and like us: