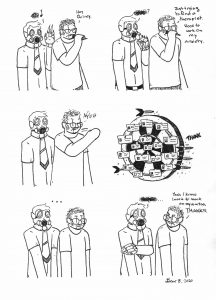 I know what you're all thinking.
And the answer is – yes, I really can't draw dartboards.  Looks like I'll have to add it the list, alongside cars.
In all seriousness, though, I do need a therapist to get my anxiety under control.  And I am in the process of looking for one.  It's not as easy as I would've hoped, and it does honestly feel like I'm throwing darts at a dartboard hoping that one will stick.  I just don't want to make the wrong choice.
Oh, and also I don't know what Quincy is either.  I…just liked the way he looked.  So, here he is.
I seriously need to introduce some characters.  I still introduce Dot's monster friends.  And get back to her storyline.
One thing at a time!
Right now: therapy.
Please follow and like us: