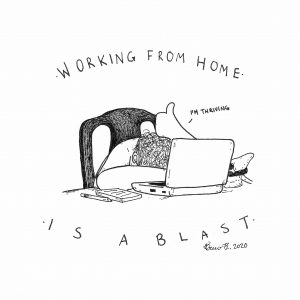 Now, I know that I am super duper lucky to be employed right now.  Believe me, it's a relief to not have to think about unemployment.
But it's still not the same.
I miss working with the books.  I miss being at the returns desk.  I even miss interacting with the patrons to an extent.
Not all of them.  But most.
It's not fun being here at home, at the dining room table, scrolling through the library catalog and trying to figure out what to do with my time.  Plus, my sole coworker only really seems to care about mealworms and napping.  Not much for conversation.
I know when we reopen, things are going to be different.  My boss is already talking about masks, installing plastic shields on the desks, trying to make sure we can still do the six feet apart deal – that's fine.  I'll take it.
It's gonna be nuts whenever we reopen, I know that for sure.
Until then, I'll be here.  Teleworking.  Having a blast and a half.
Please follow and like us: