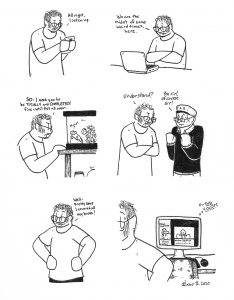 I still don't know exactly what happened.
But I'm pretty sure it was my fault.
So.  Friday.  I log on, ready to post.  WordPress lets me know that there are a few things I should probably fix on my blog.  And I'm like, "Okay, sure.  I'll get on that."
One of them was updating to https.  Now, I have the technological know-how of a squirrel, but after looking it up, I think, "Oh!  Okay.  I've got this.  All I have to do is change one little thing here, and-"
Kerblooey.
I can't log in.  None of my posts can be clicked on.  They all lead to some North Carolina plumbing service's website.
So, I decided to handle this in a calm, mature fashion, and proceeded to promptly freak out.
My parents didn't know what to do.  I didn't know what to do.  5 years of work seemingly went straight down the tubes.  I have all the pictures saved, but none of the writing, because what even is backing up?
And, of course, it had to happen on a Friday afternoon.  With COVID-19 prancing around the country.  Because IMPECCABLE TIMING.
I finally managed to gather enough of my senses to Google what the sweet hell what I'm supposed to do now.  And I discovered a WordPress Support website.  Thank GOD.
I get in touch with someone.  I spill all the sweet gory details of what happened to my precious blog.  And they get right to work.
Apparently, my directory databases got corrupted, which screwed up my ability to log in.  Could they fix it?  Yes they could.
I paid up the money (which was a lot), sent them what I could – and all I could do was wait.  And panic.  And stress.  And wait.  And hope I wasn't being taken for a ride.
And wait.
The next day, at 11 AM, I woke up from my post-breakfast nap, because clearly I slept well the night before, and saw an email.
It's fixed.
They're done.
I clicked over to my website and lo and behold, I Draw Walruses is alive.
And there was much rejoicing.
Even though I don't get a lot of traffic, even though I get maybe 10 people tops reading this website – this is my baby.  My diary.  It's seen a lot over the past five years.  Post-grad unemployment.  Getting hired as a page.  Experiencing all sorts of fun adulting stuff.  Getting promoted.  Whatever the heck is going on now.  And developing all sorts of fun characters – Lars, Willa, Eliza, Jeff the Reindeer, Cleo, and more.
And to lose that all – that would hurt.  That would just drain me even more that this whole event did.
So, now, what do I do?
I think I know what I did wrong.  BUT.  I refuse to touch anything, do anything stupid at all, before I back everything up.
That is truly the lesson to be gained from all this.  Don't take anything for granted, and back up your work.
Seriously.  Back it up.
Please follow and like us: