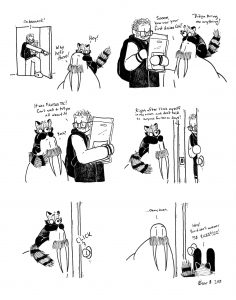 And we're back!
Took a quick break to recuperate from Inktober, but now, it's time to get back into the swing of things.
And yes, I did go to my first Anime Convention a couple weekends back.  Truly an experience, and a really fun one at that.  The costumes that people wore were amazing – had to marvel at the artistry on display with a good many of them.  And I got to attend some interesting panels, like one talking about Joan of Arc's impact on pop culture (not something you'd expect to see at an anime con, but really quite fascinating), one about Japanese mythology in anime, a kind of creepy one about number stations – all really awesome, truly.
Best part was probably Artist's Alley and the Dealer's Den – basically, merch central.  Probably spent way too much money, but there was so much cool stuff to buy.  So I mostly wrote it off as helping out my fellow artists.  And now I have more keychains than I know what to do with.
All in all, a fun experience.  But once I got home, I definitely needed to hide, just wanted to get away from being around so many people.  My introvert battery was bottoming out and in desperate need of a recharge.  Of course, I did have to go to work the next day, but I managed for the most part.
But yeah, now I'm back.  Expect more cartoons shortly!
Please follow and like us: