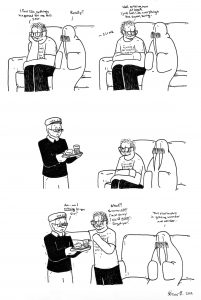 …trying to figure out how to word this.  It's not so much that the novelty of having a new car has worn off by now, because it hasn't.  I mean, I have a car that runs, which is amazing.  It's more like I forget how big buying a car is.
It sounds weird, but it's true.  I mean, I'm going to be paying it off for a while – how do I forget something like that?  Honestly, I don't know.  I just remember having this feeling a few weeks back of, "Man, nothing really big has happened to me this year."  Then I was like, "Oh.  Right.  The car."
Maybe it's part of being an adult and having other things on my mind.  Like, okay, got a set of wheels that gets me places, check.  Got the payment plan all set up, check.  Now, what's next on my list?  Suppose that makes the most sense.  I think.
Please follow and like us: