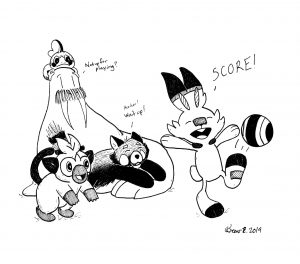 There's a new Pokemon game coming.
And I'm friggin' stoked.
I'm pretty sure I made noises that most grown adults usually don't make upon seeing the announcement.  But can you blame me?  I've been playing these games for the past 18 years or so (which is a good two-thirds of my life at this point, holy crap).  And for once – for ONCE – I have the right system to play this brand new game and I don't have to WAIT.  EXCITEMENT.
There was a brief moment time when I may have turned my back on it, but that was like, middle school, when it wasn't cool to like anything, really.  But now here I am, ready and set for the next generation to take me on another adventure into a whole new region with brand new Pokemon.
Only downside is that I have to wait until Fall for it to come out.  But you can bet that I will be snatching that sucker up the moment it's available.  Because that's one of the upsides of being an adult with a paying job – I can do that.  And no one can stop me.
Bring it on, Nintendo/Game Freak.  My body is ready.
NOTE: This is the first time I've drawn Pokemon since I was 11.  And I am pretty damn proud of how they turned out.
Please follow and like us: