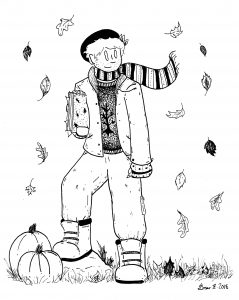 I've really been enjoying this Autumnal season as of late, so I decided, why not do a quick drawing of Autumn?  Haven't drawn him all season.
For a while there, it felt like Autumn was never going to arrive.  The first couple of weeks in October were, to be perfectly honest, disgusting.  Way too warm and unseasonably muggy.  The trees weren't even close to changing, thanks to it being a very wet year in general (it's raining right now).
Then in the past couple of weeks, everything was like, "What?  Oh, right.  It's Fall now."  And boom!  It's been cool weather ever since, and the trees have finally decided to display their fall foliage.  Seen some beautiful colors in my area – lots of bright yellows and vermilions, a few deep purples here and there.  Also a lot of rust, though, which is what unfortunately happens when the leaves change so late.  But still, lots of color, regardless.
Will be getting back to the Halloween storyline – eventually.  There's just been a few other things that I've wanted to draw about.  But it will be back soon, I promise.  I won't just leave it hanging.
Please follow and like us: