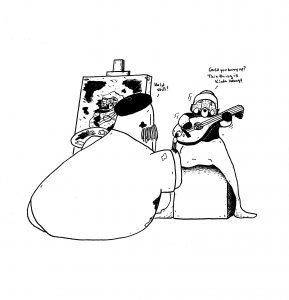 Well, looks like someone was inspired by his recent trip to the art museum!
Yes indeed, our walrus friend has decided to take a page from Johannes Vermeer's playbook and portray a scene from daily life.  Of course, one has to wonder how daily someone plays the lute anymore.  Also not sure how he managed to get his red panda sidekick to model/hold still for this long.
Let's be just be happy he didn't decide to emulate Jackson Pollock.  That would be one heck of a mess.
Please follow and like us: