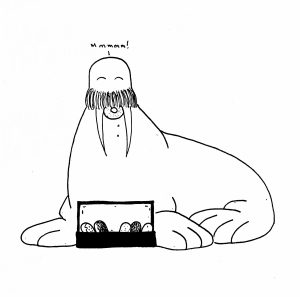 Ha!  I posted something today!  Take that…me!
*cough*
Anyways.
Looks like our walrus friend decided to pick up some donuts for some of his buddies.  Of course, being donuts, he had to try at least one.  Just to be on the safe side.
Speaking of, finally went back to Astro Doughnuts, this time with friends.  They loved it.  Will be going back so that they can try the awesomeness that is the Creme Brulee donut.
Also, I got to try their tater tots, which I didn't realize they made.  Mercy, man.  They were delicious.  Really need to go back more often.
Please follow and like us: